030 44 32 40 50
Persönliche Beratung
0
030 44 32 40 50

Persönliche Beratung

Druckprodukte

Druckprodukte

Alle Produkte

Alle Produkte

Top Produkte

Neue Produkte

Filter löschen

Veredelte Produkte

Veredelte Produkte

Schnelle Produkte

Schnelle Produkte

Verpackungen

Verpackungen

Individualdruck

Individualdruck

Online-Designer

Online-Designer

Unternehmen

Unternehmen
Info-Center
File specifications
How to prepare your layouts for ordering:
General information
Print data
Colours
Finishing
Processing
To top
General information
Combination run printing
The print products we offer in the online shop are printed using the combination run printing process. Together with other customer orders, your product is printed on a common print sheet, the so-called combination run sheet. This ensures favourable prices as well as speed and flexibility in order processing!
We produce within the permissible tolerances of the PSO (Process Standard for Offset Printing). All settings apply to the complete sheet.
If you should have individual requests – for example in terms of colour, paper or processing – contact our
custom print
team! Of course, our file specifications apply in the same way to the print products ordered and produced with the custom print team. In custom print, we can also factor in print samples or proofs into the production, which is unfortunately not possible in combination run printing.
Data check
Your data will be checked for its technical usability for printing, free of charge, by our data check team. If the check throws up a problem, you will receive an error message to the email address given in the order process and a notification via text message if you have specified a mobile number. You will then be given the opportunity to upload corrected data or – if technically possible with the problem observed – to give your approval for printing.
Data sheets & downloads:
Many of our products have individual data sheets, that can be downloaded directly during the order process. For die-cut print products such as folders, you can find the appropriate layout templates in our
download area
.
Please note: After a third delivery of erroneous data, due to the extra effort, we will charge €10 for each additional check. We thank you for understanding.
Attention! Spelling and design cannot be considered during the data check.
Tolerances
For technical reasons, every stage of the production can be subject to deviations of up to 1 mm.
Preview data
It is always possible to send us a preview file together with your print order, for additional processing needs. Especially for more complex orders (e.g. boreholes, rounded corners, perforations), an unambiguous preview file can help clarify your requests. Misunderstandings can thus be avoided.
Format
Please set up your print data in an open (unfolded) format, plus bleed, and with a consistent page orientation.
Minimum order format for unfolded products:
40 x 40 mm (Smaller formats are only feasible using a die-cut.)
Folded products:
For folded products, the closed minimum format is 74 x 75 mm.
If the fold is parallel to the short side, the result is an opened minimum format of 148 x 75 mm.
Exceptions:
Brochure, perfect binding: separate files for cover and inner part
Cover: two pages (outside and inside) in open (unfolded) format
Inner part: continuous single pages
Pages
Pages depend on the printing option selected (on one side or on both sides). You can upload up to two single-page print files or one file with two pages (exception: brochures).
Printing options:
| | |
| --- | --- |
| Two-sided: | 2 pages (1/1, 2/1, 2/2, 4/4, 5/4, 5/5 colour) |
| One-sided: | 1 page (1/0, 2/0, 4/0, 5/0 colour) |
Please note: Empty pages that are not part of the design must be removed from the PDF document.
Amount of pages brochures
Brochures with saddle stitching: Please send cover and inner section in one file (PDF) with consecutive single pages, no double pages. Select a maximum of 80 pages including the 4 cover pages. The total number of pages must always be divisible by 4.
Brochures with adhesive binding: Please send the cover and inner section in separate files. Please choose between min. 48 and max. 200 pages including cover pages.
Cover with adhesive binding: Please always send two pages (outside and inside) in open (folded out) format with applied reverse side. Even with unprinted inside and cover, please create a blank page in the same format.
Inner part with adhesive binding: Please send continuous single pages, no double pages. The sum of the number of pages of the inner part must always be divisible by 4.
Page orientation
Please pay attention to a uniform orientation of the format and a correct rotation of the pages to each other. Detailed
instructions on page position
can be found in this manual.
Please note: With uniform orientation of the format, we will use your data as delivered – the position of the pages to each other will not be corrected automatically.
Bleed
After printing, your product will be cut from the large combination run sheet. Trimming can be subject to slight deviations of up to 1 mm. To avoid white gaps occurring, create a 2 mm wide bleed around the final format, onto which the motif extends.
Packaging, canvas prints and various gift items are exceptions here. The exact details on bleed can be found in the corresponding data sheets.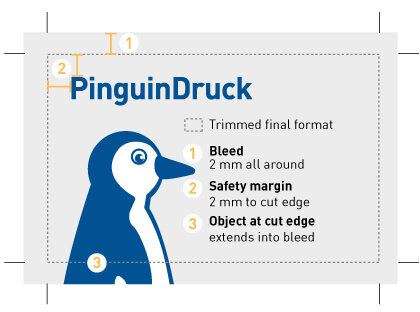 Safety margins
For all objects that mustn't be trimmed, we recommend a minimum safety margin of 2 mm inside the final format.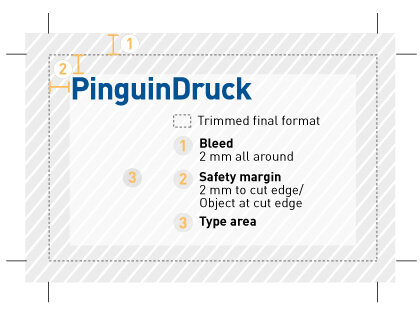 Frames and borders
Frames, borders or outlines that are positioned directly on the final format should have a minimum width of 4 mm within the cut edge.
Please note:
Cutting tolerances of up to 1 mm cannot be avoided in combination printing.
For frame widths of less than 4 mm, slightest deviations are visually very noticeable.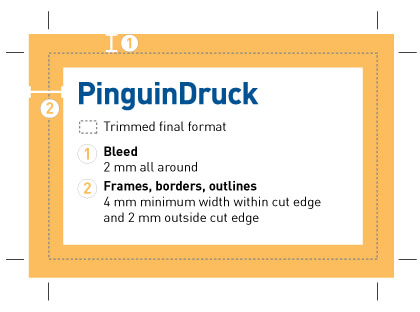 Resolution
For printing purposes, the standard resolution is 300 dpi for colour and grey-scale images, or 1200 dpi for bitmaps and line patterns.
In the digital data you create in the layout, graphics or image editing program, this corresponds to a resolution of 300 ppi or 1200 ppi.
The more pixels per inch (ppi) an image has, the better the quality in terms of sharpness and detail. If your layout does not have the required resolution, you can have the image recalculated. Please note that your data will only be interpolated, i.e. matching pixels will be added. This usually results in a loss of quality.
If you reduce or enlarge a raster image at constant resolution, the image quality will also decrease. This applies both to recalculation in Photoshop and to scaling in a layout program. To preserve the image quality, use the maximum quality of the JPG compression.
Our recommended resolution for printing purposes:
| | |
| --- | --- |
| Large formats from DIN A2: | min. 200 dpi |
| All other products: | min. 300 dpi |
| Patterns/bitmaps (1 bit): | min. 1200 dpi |
Please save pictures as follows:
| | |
| --- | --- |
| JPG: | Baseline/Baseline (Standard), maximum quality |
| TIF: | Zip compression |
Fonts
Recommended minimum size: 8 pt (depending on font and font style). We recommend setting small continuous text at 100 % black.
Please note: Black text that is smaller than 8 pt is automatically overprinted. If this is not desired, please convert the font into paths and set them to knockout (100 % black [K]).
In case of error messages about non-imbedded fonts or problems with fonts (e.g. missing characters or license problems) please convert the font to paths/contours.
Line weights
Monochrome lines:
| | |
| --- | --- |
| Positive (dark line on light background): | min. 0.25 pt (0.09 mm) |
| Negative (light line on dark background): | min. 0.5 pt (0.18 mm) |
Multi-coloured lines:
| | |
| --- | --- |
| Positive (dark line on light background): | min. 0.5 pt (0.18 mm) |
| Negative (light line on dark background): | min. 0.5 pt (0.18 mm) |
Attention! When resizing vector elements, the contour width is often scaled proportionally. Make sure that the contour width does not fall below the specified values after scaling.
Newsletter
Erfahren Sie von Neuigkeiten immer als Erstes.
Abonnieren Sie unseren Newsletter für Informationen und exklusive Angebote.